What's The Best Date for the Next Singles Event in Japan in 2019?
Events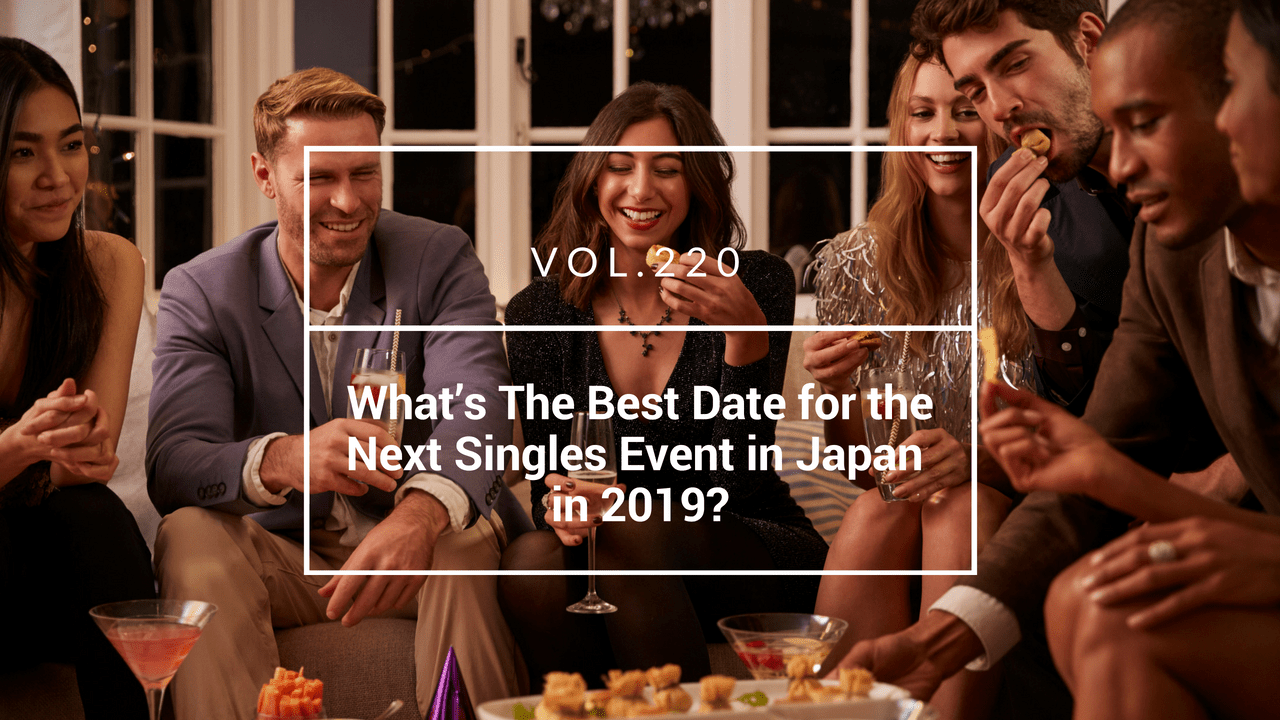 What's The Best Date for the Next Singles Event in Japan in 2019?
We just closed the event attendee list for the Meet and Greet with Japanese Women in Tokyo 2018, and we are preparing for this event that is happening next weekend. At this event we will host 3 separate events in 2 days, including a singles party and 2 special seminars for Japanese women. There will be over 120 people joining our event and seminars this year. Regarding the singles party, 13 male members and 24 female members, a total of 37 male and female members will join us. Most of the male members who are attending are coming from outside of Japan. We appreciate their great efforts to visit Japan to meet single Japanese women!!
Actually, about 20 single Japanese women are still on our waiting list for our singles event, but we will not be able to have them at the event because of the room capacity and the balance of men and women attending.  We wish we could have welcomed them all at our event!
In order to provide more opportunities for single men and women to meet and greet in Japan, we have started to plan for the next SINGLES EVENT in TOKYO 2019, and we would like to ask you….
"What's The Best Date for the Next Singles Event in Japan in 2019?"
If you are interested in our event in TOKYO next year, please give us your opinions. Your thoughts always help us improve our service. Thank you very much!
If you cannot wait for such a long time to meet Japanese women, please come to our events this year in NYC and SF. We will let you know the details soon!
We hope that many single men and women take these great opportunities that we provide to find their one and only!

Speed Dating Event in Japan on July 7th 2018
If you haven't planned to visit Japan, we recommend to plan on July 7th 2018. We will host a speed dating event in Tokyo, so you can meet many beautiful Japanese women in Tokyo in one day. Also we can arrange individual meetings for you. I am sure this is a great opportunity for you if you really want to marry a Japanese woman within a year!
Date: Sat July 7th 2018
Time: 15:00-18:00
Place: Harajuku Area, Tokyo
Here is the link for the event reservation.
Speed Dating Preregistration:
https://meetjapanlady.com/form_tokyo2018/
Dating and Matchmaking Service for Single Professionals and Japanese Women Established in 1999
We have been working as professional Japanese matchmakers for 18 years. We look forward to assisting you in finding your Japanese wife. Please click below to make an appointment for a Free Skype consultation if you are truly interested. We are happy to make an appointment with you after you have created your own profile. https://meetjapanlady.com/company.html

Naoko Matsumoto
CEO and Your Personal Matchmaker
Traditional Japanese Matchmaker