A Matchmaker's Confession—The Gaps in Men and Women's Expectations and Realities—The Secret of Successful Matchmaking | Dating & The City Episode 12
Blog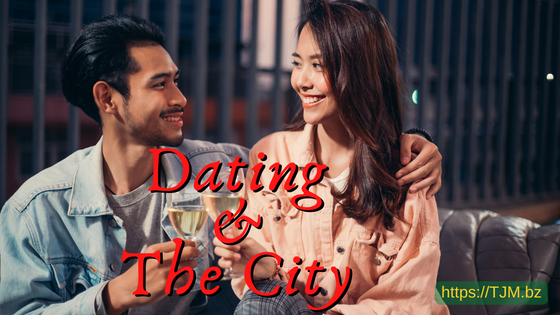 A Matchmaker's Confession—The Gaps in Men and Women's Expectations and Realities—The Secret of Successful Matchmaking | Dating & The City Episode 12
Tomo (Living in NYC)I am a single Japanese woman living in NYC. After ending the long-distance relationship with my former Japanese boyfriend, I went back to the dating scene for the first time in almost 10 years. Then I decided to try something that I had never done before– online dating with non-Japanese men. It was a completely different experience for me to date men from different racial and cultural backgrounds. They are typically good at complimenting ladies, carrying good conversations, keeping ladies entertained overall, and making them laugh by being funny. At the same time, it can be tough. What I say and do or what he says or does could be confusing, misleading, or even become a deal breaker. In my column, I will share my cross-cultural dating experiences from a Japanese woman's perspective, hoping that they should be helpful as tips for those who're seeking cross-cultural relationships (with a Japanese woman in particular).
Dating & City Episode
1 | 2 | 3 | 4 | 5 | 6 | 7 | 8 | 9 | 10 | 11 | 12 |
Dating & The City Episode 12
A Matchmaker's Confession—The Gaps in Men and Women's Expectations and Realities—The Secret of Successful Matchmaking
Cross-cultural relationships are not easy. Different languages, different customs and cultures, different foods, different thought processes—the list goes on. And yet, people dare to take on such challenges for different reasons and motivations, as we have seen in the previous chapters. As a professional matchmaker for the past fifteen years, TJM's Naoko has successfully led hundreds of cross-cultural couples to marriage. What's her challenge as a matchmaker? How does she handle difficult clients, manage their expectations, and guide them through the journey of matchmaking to bring them to success?
What (Japanese) Women Want:
Race Issue: White Fever
"Many of our female members would come to us with a certain image of international marriage as unique and cool, and it would make them stand out in the crowd and be special," Naoko said. "Initially, most of them would ask us to match them with only Caucasian men. For them, having a white husband is kind of like carrying a Louis Vuitton bag that they'd like to show off," said Naoko with a wry smile across the computer screen during our online video interview. "However, a larger share of our male members are non-Japanese, Asian men. Many of them have a very successful career in tech companies in Silicon Valley, and it's not rare for them to earn over $200K or $300K a year even in their 20s and 30s. So, we ask our female members to be open-minded and to consider meeting with these non-white candidates."
Show Me the Money
As much as women want their future husbands to be white, his economic status is also one of the most critical elements for women. As I pointed out, for many women, marrying up is a big motivation to get married. Getting married to a successful non-Japanese man will give her the opportunity to live abroad and lead a glamorous lifestyle with a high standard of living. Therefore, some women are willing to compromise on other fronts, such as their future husband's race or age range, and adjust their initial criteria to match reality and become more open to non-Caucasian men with good incomes.
Living in Japan
Some women would specifically look for a future husband who could move to Japan and live there. "That's simply too much to ask," said Naoko. "It's way too unrealistic! For foreigners, finding a decent professional job in the Japanese job market is extremely difficult unless they have a very specific skill set or set of credentials and they speak fluent Japanese," Naoko shrugged her shoulders. If the Japanese economy were strong like it was in the late 80s and early 90s, many foreigners would want to learn Japanese and work in Japan. But those days are gone now.
Young Men
She also confessed that women in their late 30s to mid-40s who want to have children have a hard time finding a good match. "Honestly, this is one of the toughest groups, especially when they want kids, and therefore, they'd prefer younger men who also want kids. But those younger men who want to be parents probably prefer younger women who are more likely to get pregnant easily and deliver a healthy baby. So, there is a big gap in demand, and that's the reality, unfortunately," said Naoko.
Surprisingly, Naoko told me many of these Japanese women cannot speak English. "I would repeatedly tell them that learning English is an absolute must for successful matchmaking and marriage. Besides, if you cannot make yourself understood in English, you cannot make your voice heard, and you cannot defend yourself, then you'd end up being taken advantage of when you live abroad," she explained, "and I wouldn't want it to happen to them." Hearing Naoko say this, some women would be turned off, sometimes get upset, and drop out of the process, while others would listen and be willing to step up to learn English and grow. "These are the types that are likely to successfully meet their future husband and get married eventually. Because they are determined to find their husband no matter what and willing to sacrifice whatever it takes."
What (non-Japanese) Men Want:
Young and Beautiful
Now, let's turn to men to see what they want from women. Naoko said her male members are pickier than women (LOL), and they are more reluctant to compromise. The most commonly desired criteria by TJM's male members are their match's youth and appearance (surprise!). Naoko told me that when a new female member joins TJM, they send a notice to their male members. "We send a blast email to our male members with a subject line like, 'New Young Female Member Just In!' When the woman is younger, naturally, more men will respond right away and swarm to her," laughed Naoko.
English Commander
Male members in general want their match to have a good command of English for smooth communication. "Men expect their match to communicate in English, while women would like their match to speak Japanese," she said. As I wrote earlier, Naoko would repeatedly tell the female members that learning English was a must. At the same time, however, she suggests that her male members learn Japanese as well. Naoko would also encourage male members to be supportive of their match's efforts to speak English, which is a foreign language for her. "I would tell the male members, 'Even if her English is not perfect, unless you try to be patient to be a good listener and understand her, it won't work.'" I thought her approach was fair. I was also brought back to a memory from twenty-something years ago, when I had an American boyfriend. One day, I suggested that he learn Japanese as my English was not as good as it is now. He said, "English is better because it is an easier language than Japanese." But it was only easier for him because English was his mother tongue. Speaking your native language is as natural as breathing.
Higher Education
Some male members prefer women with higher education. That's so refreshing to hear because such women in general are neither preferred nor popular in Japanese society. Maybe this has to do with the demography of the TJM members. According to Naoko, many of the male members are highly educated professionals such as college professors, attorneys, IT engineers, etc. Some are very knowledgeable about Japanese history and culture, and some call themselves 'anime otaku'! Besides, a minimum income requirement of $70K is set for a man to become a TJM member. This restriction is only set for men. So, my guess is that such highly educated men want an equal partnership and prefer an educated woman who is independent, has her own opinion about different subjects, and is able to carry on a good conversation.
'Perfect' Woman
Some highly successful men demand the 'perfect woman"—young, beautiful, physically attractive, smart, etc. They might think they deserve everything, including a 'trophy wife.' Naoko said, "They demand 'perfect' women for themselves, but meeting their expectations one hundred percent is extremely difficult. They will never be satisfied and will always want 'more'," which will delay their decision-making. It's very frustrating to see them letting their precious time slip by. They don't realize that once they hit 50 years old, even with their wealth, career, and everything else, it will be much harder for them to find that 'perfect woman' they are dying to meet. This kind of search will exhaust them and us. It's just very counter-productive." Naoko sighed deeply.
Secret of Successful Matchmaking…and Happiness
Thus, Naoko's job is not just to make a good match for these men and women, but to give them guidance and direction, coach them, and convince them when necessary, to bridge their differences and close the gaps in their expectations. Sometimes her effort pays off; sometimes it doesn't.
Race Issue
According to Naoko, if a woman is flexible about her match's race, she can oftentimes find a good match in a short period of time, and it's not rare for people like that to get engaged within 3 months! "Those who are not fixated on their initial criteria, not only race but also age range, height, appearance, etc., for their future husband, are more likely to find a good match and get married. Their success rate is high," said Naoko.
Again, Age Issue…
Some women in their 40s and 50s want their match to be older than them by only up to 5 years. "But that request is very difficult to fulfill. Because men in their allowable age range of 45 to 55 with good incomes can still find women in their 30s. Therefore, these women's matchmaking success really depends on how much higher she can go in terms of her match's age. It's just the reality, and I have to tell them this, although it's difficult."
Facing reality is not just for mature women. "Men in their 50s and 60s also come to us and ask us to find much younger, and of course, more beautiful, women in their 20s and 30s as they want children. This type of match is extremely difficult. We actually stopped serving clients with such requests," said Naoko.
Some people's expectations toward their match are just not realistic in light of the reality of supply and demand in the dating or matchmaking market. As such, she cannot let her members keep dreaming and trying to find 'the one' that meets all of their desired conditions. It is almost like 'thinking that one has a lottery ticket, hoping that you'd win Mega Millions one day,' as Naoko put it.
Big City, Big Ego
Interestingly, she also found people in big cities like New York have very strong ideas about their match and are not flexible at all (Hey, New Yorkers, are you listening?). "It is very hard for us to serve and coach them. Maybe these people are better off focusing on online dating apps and having as many dates as they want. So, we are discussing whether we should shift our focus more to smaller cities, where people might have much less ego and be more open-minded. It would be easier for us and more suitable for our service model."
Bottomline
Naoko takes her members' lives and happiness very seriously. She said her mission is not only to hold her members' hands during the journey of matchmaking but also to challenge them by telling them the truth, even if it is not easy, comfortable, or even painful sometimes. Naoko admitted that some of her clients get upset with her when she is straight about reality.
"I think what we are doing here at TJM is trying to 'enlighten' our members so they realize their happiness is just around the corner and that happiness is attainable only if they allow themselves to be open and flexible." She wants her members to be happy as soon as possible, without wasting their time.
"Many people believe that multiple criteria must first be met to be happy. But if such conditions are ever met, does that guarantee your happiness? Not really. Meeting certain criteria will never be sufficient to make you happy. People should realize that simple fact," Naoko emphasized.
I have never been married, but I can imagine getting married is just the beginning, and married life is a long and winding road. While there are happy times and joy in the journey, I am sure there will be many challenges along the way. What Naoko said at the end of the interview lingered in my mind for a while—"At the end of the day, knowing yourself well and understanding your market is really the key to successful matchmaking. If your heart is open and flexible, the door will open for you."
(Written by Tomo)
I am looking forward to her Dating & The City – Episode 11!
Naoko Matsumoto
Founder & CEO of Traditional Japanese Matchmaker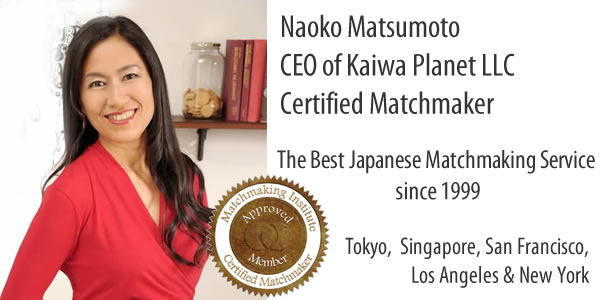 Traditional Japanese Matchmaker is the best dating and matchmaking service in Japan that is specialized for single professionals and Japanese women established in 1999. Please click the link below to sign up for TJM's Free Registration if you are truly interested. We look forward to assisting you in finding your Japanese wife.