How much information is too much? | Dating & The City Episode 4
Blog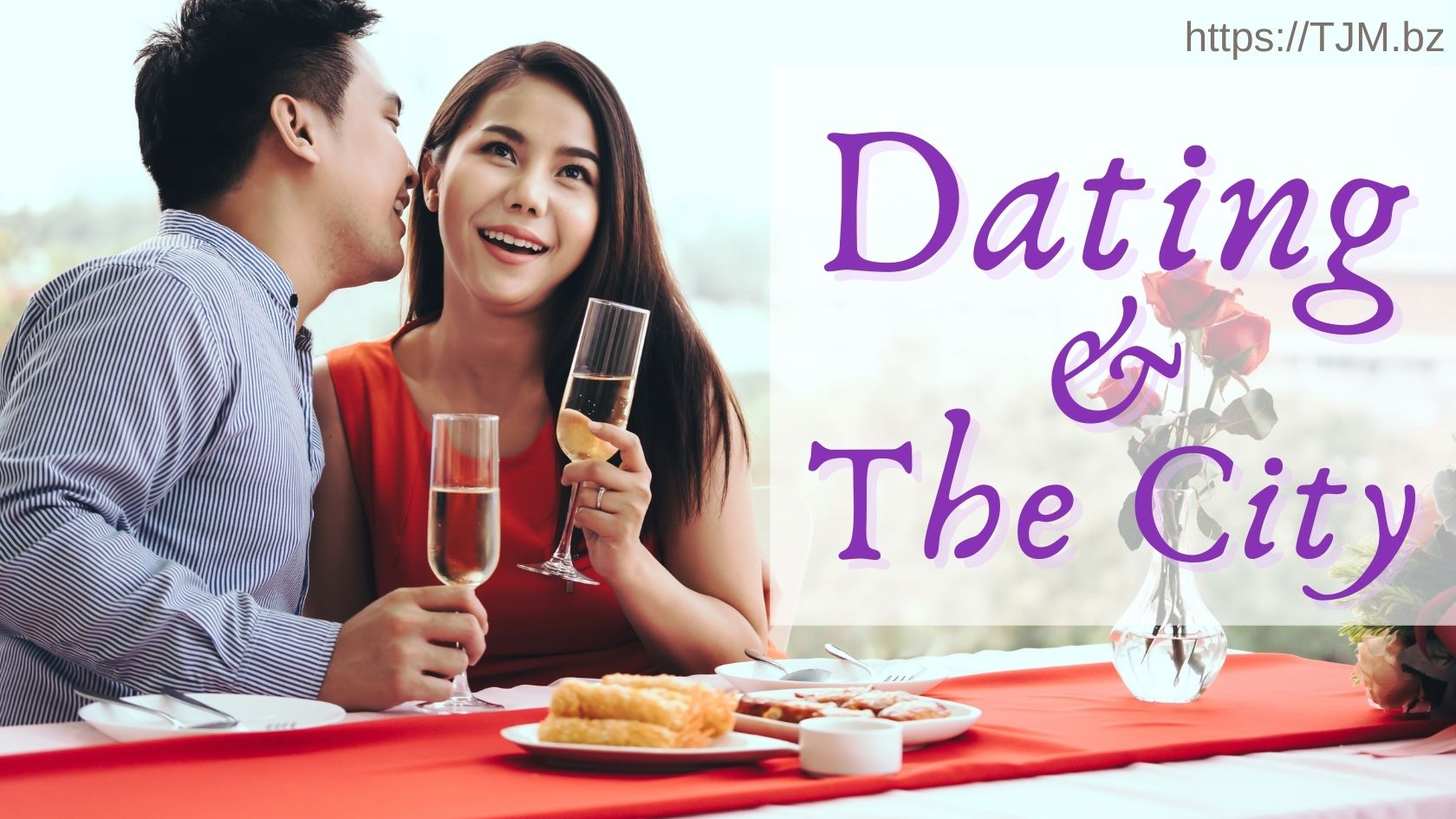 How much information is too much? | Dating & The City Episode 4
Tomo (Living in NYC)
I am a single Japanese woman living in NYC. After ending the long-distance relationship with my former Japanese boyfriend, I went back to the dating scene for the first time in almost 10 years. Then I decided to try something that I had never done before– online dating with non-Japanese men. It was a completely different experience for me to date men from different racial and cultural backgrounds. They are typically good at complimenting ladies, carrying good conversations, keeping ladies entertained overall, and making them laugh by being funny. At the same time, it can be tough. What I say and do or what he says or does could be confusing, misleading, or even become a deal breaker. In my column, I will share my cross-cultural dating experiences from a Japanese woman's perspective, hoping that they should be helpful as tips for those who're seeking cross-cultural relationships (with a Japanese woman in particular).
Dating & City Episode
| 1 | 2 | 3 | 4 | 5 | 6 | 7 | 8 | 9 | 10 | 11 | 12 |
Dating & The City Episode 4
How much information is too much?

Online dating is fun. Connecting with your new date, exchanging simple messages like "Good morning! How are you?", "Hope your day is going well so far", "How was your day?", and "Sweet dreams" can add a smile to your face and can be something to look forward to during the day. Besides, thanks to the advancement of technology, we can now exchange much richer content than simple phone calls or texts. You can easily share information about where you are, and what you're seeing and experiencing, by sharing pictures, your location on GPS, short videos, and voice recordings, in real-time. We can access much more information about your date than ever before even without meeting the person face to face. Isn't it incredible?! However, you should curve your excitement and make a sound judgment about how to use these tools and what to share and what not to share with your match. I will tell you my experiences with three different matches.
I met this ambitious and successful entrepreneur on match.com. He was in his late-40s, ran his business while working daytime as a building security staff in Midtown, Manhattan. I loved people who're ambitious and hardworking. As soon as I gave him my phone number, he suddenly Facetimed me without telling me what time he'd call. It was in the evening, and I was relaxing at home in a comfy sweatshirt with my hair tied-up and no makeup on– I was not presentable at all. So, I picked up the call with my video off. Then what I saw on the screen was this guy with no shirt on. I was shell-shocked. This was our first virtual meeting and he showed up shirtless? Did he think it's sexy and maybe I would like it? He asked why I kept my video off and repeatedly asked me to turn it on, but I politely declined. He also called me "baby" from the beginning, and I was a bit annoyed because we just met. None of his profile photos on match.com included his naked body and he seemed to be just another regular guy with commonsense when texting. So, I was taken by surprise with his act. Needless to say, I never communicated with him again after this incident.

Another example is a guy from Philadelphia whom I engaged in casual texting on and off for a few weeks. He said he would come to NYC for work once or twice a month and I was hoping to meet him in person soon. He was in his mid-50s but very athletic and physically fit, looking much younger by at least 10 years (at least in the picture). He was an architect, cultured, witty, and had a very dry sense of humor which made me crack up sometimes. He loved cooking and occasionally sent me pictures of the dishes he made. That day, he sent me a picture of crème brulee he made for dessert and I commented that I had been cutting down on sweets because I had gained weight lately and my tummy was getting bigger. Then he texted me, "Show it to me." I paused for a second but let it go by typing back "haha." Then, the next thing he sent to me was his naked upper body picture, lying in a bed with his hairy chest and torso exposed! I froze and was speechless. I exhaled deeply to gather myself and put my iPhone down.

Next day, he texted me again—"Talk to me, baby, please." I was annoyed by his immature behavior and waiting for him to apologize for his act. I sighed and ignored his messages. Then, he sent the same picture again!! At that point, he clearly crossed the line. I added his number to my blocked callers' list. But that doesn't mean I was spared from his harassment. Because he had my phone number, he could search me on other apps like WhatsApp, again, thanks to the advancement of technology. He sent me the same picture for the third time on the app. I freaked out this time and blocked him on the app as well. That was the end of this horror story.
What's wrong with this man!? We were carrying a decent conversation through texting until then and I actually liked him and was looking forward to meeting him in person. But suddenly, he made a weird request and attacked me by sending his naked picture three times!! OK, he probably meant to be 'flirtatious' and 'playful' but he should have been aware that there's a risk his act could make me uncomfortable and his intention could be misinterpreted because we communicated solely through texting and I could not tell his tone or his intention just through what he wrote.

Do you think his act was acceptable? Do you think I was overreacting? Am I too uptight? If any of the readers of this column can explain this man's behavior from a man's perspective, I would love to hear it. My interpretation was that he was desperate and impatient. But desperation scares women away, same goes for men as well. He was imposing his desire on me without any regards to how I would feel about his comment or naked picture. I thought it was so childish and selfish.

The last example is a guy I met on elitesingles.com. He was a director of an IT consulting company, and he was such a great communicator. He constantly sent me messages to ask me how I was doing, pictures and short videos of himself, his two young boys, what he cooked that day, and his big house with a nice yard in the suburb of New Jersey. He even texted me a recipe of his secret pasta sauce which I thought was very sweet. One day, he suggested we use Facetime instead of just texting back and forth and we did. It was actually refreshing, and I really enjoyed it. Although it's virtual, I felt much closer to him than just texting. I could hear the tone of his voice, pace of his speech, the way he spoke and moved, subtle movement of his facial muscles, and hand gestures. Such information could tell me so much more about him than simple texting. Our frequent texts and occasional Facetime communications did not go anywhere in terms of the relationship, but he was very good at utilizing multiple communication tools for him to present who he really was and to learn more about me. Had our personalities been more compatible, we could have continued our communication and taken it to a more serious relationship.

The point I am trying to make through the experiences with these three men is that simply having multiple media tools does not necessarily mean that you are automatically better at communicating and instantly connecting deeper with others. Rather, if you're not a good communicator and not mindful about communication etiquette in the first place, you are most likely to misuse the tool and ruin your communication with others by providing unwanted and offensive information be it in the form of texts, visuals, or audio. A good communicator is considerate and respectful to the person they are communicating with and pays attention to how his/her counterpart feels.

Some of you might be thinking "Oh c'mon, that's so boring." Maybe it is boring being patient and considerate. We're so used to the culture of easy gratification. But why are we in a dating scene anyway in the first place by investing so much time, energy, and money? To have a meaningful relationship, isn't it? If you're looking for easy gratification or simple hookups, that's another story. But if you're looking for a steady and meaningful relationship, it will take time to grow and flourish. The different communication tools will definitely help the process if you use them wisely. So, in leveraging the power of technology, please be smart and mindful about how your date would feel about the way you use them and the information you'd share through them. That's really a fundamental principle and shows good etiquette toward your date. Otherwise, the technology can be a double-edged sword. So, be cool, be considerate, and hold your horses.
(Written by Tomo)
I am looking forward to her Dating & The City – Episode 5!
Naoko Matsumoto
Founder & CEO of Traditional Japanese Matchmaker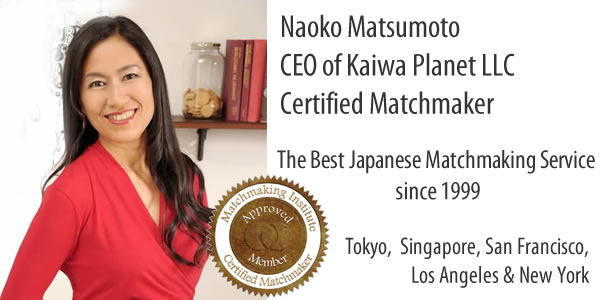 Traditional Japanese Matchmaker is the best dating and matchmaking service in Japan that is specialized for single professionals and Japanese women established in 1999. Please click the link below to sign up for TJM's Free Registration if you are truly interested. We look forward to assisting you in finding your Japanese wife.
Naoko Matsumoto
CEO and Your Personal Matchmaker
Traditional Japanese Matchmaker