Free Consultation in New York City and New Jersey
Announcement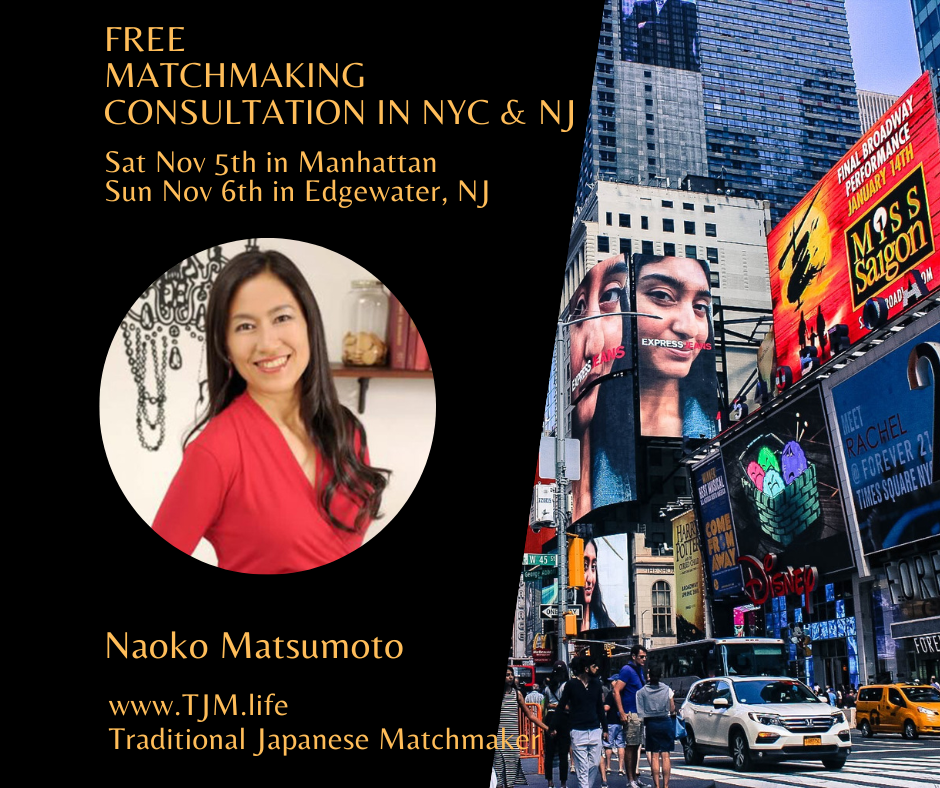 Free Consultation in New York City and New Jersey
TJM's Free Matchmaking Consultation in New York City and New Jersey is this weekend!!!
Please sign up from the link below.
https://calendly.com/kaiwaplanet/
New York City (Mid Town)
Sat. Nov. 5th
15:00-15:45
16:00-16:45
17:00-17:45
New Jersey (Edgewater)
Sun. Nov. 6th
15:00-15:45
16:00-16:45
17:00-17:45
Japanese Women in NYC
Currently, we have some new Japanese women who are in their 20's and early 30's living in New York City and in Japan. At this consultation, we are especially looking for gentlemen who are interested in meeting young Japanese women. One of our female members in NYC is 23 years old. Please see TJM's instagram post. Her number is #F50088.
More Options – Wide Age Range
We have a wide age range of Japanese female members. If either Japanese women who live in New York City and Japan can be your potential candidates, we are happy to assist you!
Online Dating or Matchmaking?
If you want to meet many Japanese women for dating, we recommend dating apps or dating sites. On the other hand, if you would like a sincere relationship with someone special in your life, matchmaking is a great option. Quantity or quality, it depends on you.
Matchmaking is for men and women who really want to get married. Their purpose is finding a lifelong partner. TJM's Free Consultation Sessions are for you to meet one of our experienced matchmakers to help you to make it a reality.
If you are a single professional who specifically wants to meet Japanese women, we can help. Meet Naoko this weekend as the first step, and you may be able to enjoy this coming holiday with someone special.
I look forward to meeting you in New York City or New Jersey this weekend!
Online Free Consultation 
If you would prefer to have an Online Free Consultation, please schedule from the link below.
https://traditionaljapanesematchmaker.us/free-consultation-online/