How to Meet Japanese Women During Covid-19
Announcement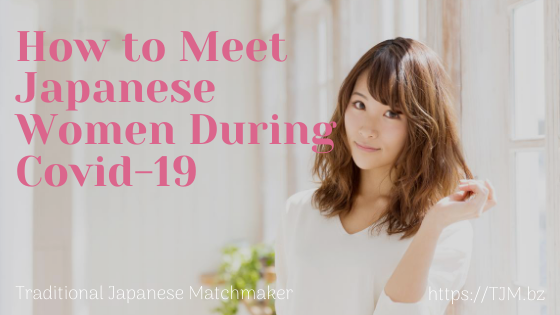 How to Meet Japanese Women During Covid-19
Some people may think it is still a good time to meet Japanese women. Other people wonder whether they can stay positively focused on finding their marriage partner during the difficulties of this pandemic. Obviously, Covid-19 changed the world suddenly and there have been ramifications for single men and Japanese women who want to get married.
We started conducting interviews with some of our female members last weekend in order to learn what their current issues or fears are. Also, we would like to ask you what is your plan for getting married to a Japanese woman and if there are any difficulties now as well.
Today, I am going to write about the following things.

Questionnaire Survey
Check the Travel Information!
Good News!

We hope this information will help you to meet Japanese women during Covid -19.
Questionnaire Survey
Here is a Questionnaire Survey for gentlemen who want to marry a Japanese woman. Would you please click the link below and complete the survey? Your answers will help us to improve our service. We greatly appreciate it!!
What country/state do you currently reside in?

As of Aug. 25th, 2020, would you explain a little bit about the Covid-19 in your area? Do you feel it is still very dangerous or do you think it almost ended?

As of Aug. 25th, 2020, does your government accept Japanese people to travel to your country?

When do you expect this pandemic to end?

Do you want to come to Japan when the pandemic ends?

What are the best ways to cope with this situation?

Are you still interested in marrying a Japanese woman?

Would you prefer to meet Japanese women in Japan or in your local area?

Any other comments?
Please Click Here to Answer the Questions
Thank you for your cooperation!
Check the Travel Information!
Everyone, please check your government's and your destination government's updated travel information so you know when it is safe to travel.

These are the airline company's websites.

ANA
https://www.ana.co.jp/en/jp/topics/coronavirus-travel-information/

JAL
http://www.jal.co.jp/ar/en/info/travelalerts/flysafe/

These are the Japanese government's websites.

Ministry of Foreign Affairs
https://www.mofa.go.jp/p_pd/pds/page22e_000910.html

Ministry of Health Labour and Welfare
https://www.mhlw.go.jp/stf/seisakunitsuite/bunya/newpage_00032.html
Good News!
We have had some successful couples even though they became our member during this difficult time in 2020. 
One of our female members wrote to us a few days ago and told us that she came to the US and had stayed there until now. There must have been a 14-day quarantine around the airport and after that, she luckily met him.  Amazing, isn't it? 
Also, I just received a message from one of our male members. The Japanese woman whom he has been corresponding with had visited him just as the pandemic had shut things down. Their relationship is still ongoing, so this is big progress!
We hope everyone stays safe. Take action only if it is safe to do so. 
Let's focus on "HOPE" and safety. Take action when prudent and your dream will come true.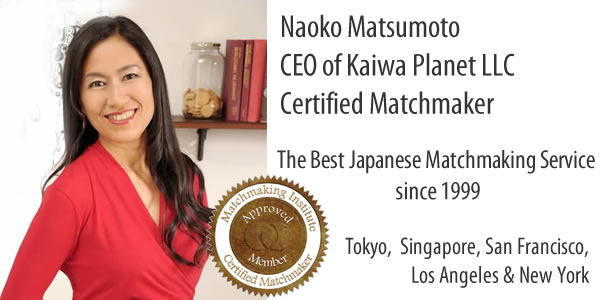 Traditional Japanese Matchmaker is the best dating and matchmaking service in Japan that is specialized for single professionals and Japanese women established in 1999. Please click the link below to sign up for TJM's Free Registration if you are truly interested. We look forward to assisting you in finding your Japanese wife.
Naoko Matsumoto
CEO and Your Personal Matchmaker
Traditional Japanese Matchmaker