Two More TJM's Couples Get Married – Our Company Produces Results
Announcement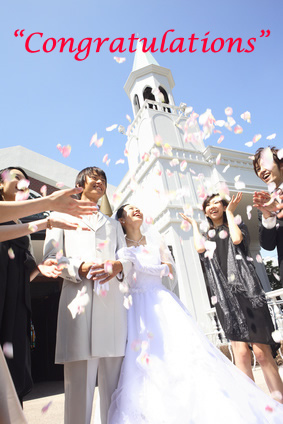 Two More TJM's Couples Get Married – Our Company Produces Results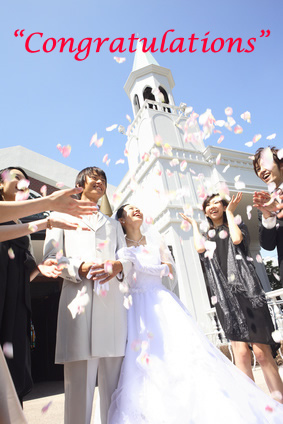 Last week, right after we delivered TJL's newsletter to share about our Wedding Ceremony and Speed Dating Event in San Francisco in November, two of our couple members wrote to us. One, from San Diego, stated, "We Have Just Been Married." And the other, from Silicon Valley, said, "We Are Going to Get Married in November!"
"Wow! Congratulations to both couples!"
Regarding the couple in San Diego, they were introduced to each other last December. After he visited Japan in order to meet with her for the first time, they made their decision to marry very quickly, and both of them did not need any more introductions.
Regarding the couple in Silicon Valley, he became a member last year, but she became a full member in June, 2016. She participated in our seminar in Tokyo in July, 2016. The title of the seminar was "How to Get Married in One Year", and I lectured about "strategies of SUCCESS" to Japanese women who want to find true love and a happy marriage. She was thoroughly motivated from the seminar and decided to fly to Silicon Valley in order to meet him in August, 2016. I suppose that my seminar worked well for her! As a result, he and she decided to get married after their first meeting.
As you may know, typical dating agencies' purpose is simply "Dating", not "Marriage".  Their mission is completed with just setting a date for their clients, and it counts as a SUCCESS. However, we count "Getting Married" or "Being Engaged" as our SUCCESS. Furthermore, we care about our members after they get married. Japanese women need support since they leave Japan and typically relocate to their husband's country that they are mostly not familiar with.  So, we support our newly married Japanese females as they adjust to their new lives. We care about you as if you are family!
By the way, there are additional members who attended my seminar of "How to Get Married in One Year", who are now taking action to make their dreams come true. If you would like to find the right person for yourself, we are able to introduce Japanese women whose commitment to marriage is very high. We do not want you to waste your time for online dating if your purpose is "marriage".
Our company takes extra steps in order to ensure success: we host seminars for our female clients, we teach relationship creation strategies, share successful experiences, and encourage our Japanese female members. Because of our extra effort, you will meet Japanese women who are marriage minded and know how to make happy marriages. Thereby, fulfillment of your goal is virtually guaranteed. Our success rate is very high!
Naoko Matsumoto: CEO and Your Personal Matchmaker