TJM's Free Matchmaking Consultation in New York City and New Jersey
Announcement
TJM's Free Matchmaking Consultation in New York City and New Jersey
TJM's Free Matchmaking Consultation in New York City and New Jersey is this weekend!!!
Sept. 3rd, 2022 in NYC is fully booked. 25% of attendees are male and 75% are female who live in NYC. The age of female attendance is all in their early 30's.
There are still some spots for our consultations on Sept. 4th in Edgewater, New Jersey.
Edgewater is a convenient, safe, and affordable place to live. It is attracting Japanese women for these reasons. As you know, many Japanese women live in New Jersey since the rent in Manhattan is too expensive for them. Also, there is a big Japanese supermarket "Mitsuwa" and a famous Japanese dollar store, "Daiso", in Edgewater. It is a great area for Japanese women.
If you live in New Jersey, and would like to meet a matchmaker, please let us know ASAP!
We will continue to schedule TJM's Free Matchmaking Consultations in New York City and New Jersey every month. If you are interested, please join us and let us know how we can help you in finding your Japanese wife!
If you are too busy to meet one of TJM's matchmakers in person, we also offer Free Matchmaking Consultations online. Simply sign up for your spot and we will be happy to speak with you.
Meeting with a Traditional Japanese Matchmaker is the first step for you. Your stepping forward will help to make your dream come true.
We look forward to meeting with you in person or online!
TJM's Free Consultations in NYC & NJ
Manhattan:Sat Sep 3rd, 2022 : (fully booked)
Edgewater: Sun Sep 4th, 2022 Click to Reserve Your Spot
15:00-15:45
16:00-16:45
17:00-17:45
Please reserve your spot now, and we will contact you shortly.
You will receive the details including the location map after your appointment has been confirmed.
If you would like to find your ideal Japanese wife in 2022, our consultations are great opportunities for you!
I am looking forward to meeting you in September!
Naoko Matsumoto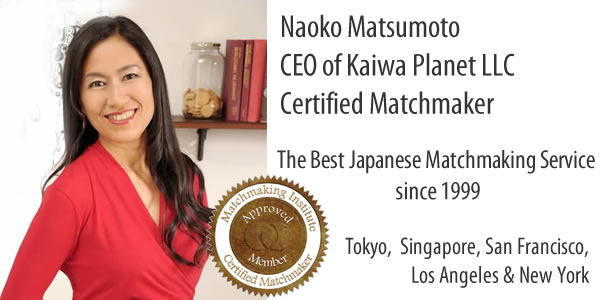 Traditional Japanese Matchmaker is the best dating and matchmaking service in Japan that is specialized for single professionals and Japanese women established in 1999. Please click the link below to sign up for TJM's Free Registration if you are truly interested. We look forward to assisting you in finding your Japanese wife.