Another Couple I Met in San Francisco – Wise Men Choose Entrepreneurial Women
Testimonials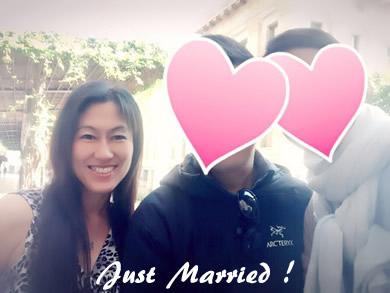 Another Couple I Met in San Francisco – Wise Men Choose Entrepreneurial Women
I met another couple in San Francisco. They met through Traditional Japanese Matchmaker's service. She left Japan for San Francisco in September 2016 with a fiancé visa. They officially got married in California in November 2016. They had planned to get married in 3 months after her arrival to the US. She has started her Green Card application.
As you may know the visa process takes a long time for internationally married couples.
Their sweet home is located near Silicon Valley, but they came to see me at the hotel that I was staying at in San Francisco. Thank you! Actually, it was the first time to meet them in person although we have talked many times on skype when they were our members.
What I remember about them is that he visited Japan so many times to see her. If there was a TJL award for male member who visited Japan the most times, he would win first place! As a result, he and she slowly nurtured a loving relationship, and then it finally blossomed. Congratulations to Our Happy Clients in San Francisco!
While talking with them, we talked about family financial matters. Before getting married, he could use his own money just for himself. However, after getting married, he and she are discussing about their family finances for having children and their future plans. She said she has her own internet business. So, she can also support their family.
We hosted a business seminar for Japanese women in Japan last January, and more than 70 Japanese women attended. They were interested in "International Marriage" since they want to try something new that they have never experienced before, like living abroad. In order to support themselves outside of Japan, they are looking for possible careers that they can continue to pursue after having relocated to other countries.
As a matchmaker, I am happy to assist our female members who want to work or continue their careers after relocating to a new country.
I would like to tell our male members to choose a woman who is able to make money instead of a woman, like a housewife or a gold digger, who just spends their money. Wise men choose women who have their own businesses or careers.
Naoko Matsumoto: CEO and Your Personal Matchmaker