The Benefits of Hiring a Matchmaker
Naoko Matsumoto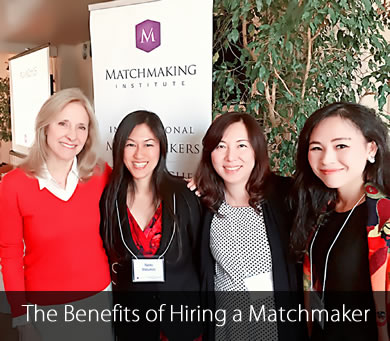 The Benefits of Hiring a Matchmaker
Many people are using online dating services to help in finding love, but also many people are hiring matchmaking services. What is the difference between online dating and matchmaking? If you are not committed to getting married yet, online dating is reasonable. If you are sincerely looking for a marriage partner, hiring a personal matchmaker is a better option.
Here are the benefits of hiring a personal matchmaker:
A Matchmaker makes life easier for busy businessman like you.
Busy businessmen are too busy to go through the whole process of online dating to find a suitable partner. Online dating demands much time to select women, send emails, then meet in person, and may not lead to anything since it is very difficult to find someone who is compatible. Matchmakers, on the other hand, are better adept at finding your perfect match based on your criteria. Matchmakers make the whole dating process much easier. You just meet with women that your matchmaker selects.
A Matchmaker interviews women instead of you.
Typical dating takes a long time and many dates to really understand who this woman is. Let the matchmaker spend the time to interview women to find out all about them. Matchmakers spend much time interviewing and investigating women, so you do not have to. All you need to do is ask about the woman you are interested in and the mnatchmaker will tell you about her. You will save much time and effort.
A Matchmaker supports both you and her when communication issues occur.
When issues arise that are hampering communication between you and her, your matchmaker is able to talk as a mediator. Usually, issues are not really serious, rather they are simply a miscommunication. You don't have to worry about the issues since your matchmaker will support you in their resolution.
A Matchmaker will keep you motivated when you have difficulty in making a decision.
For many people, it is hard to make a decision even though they might think he/she is the right person. Matchmakers will help you decide if he/she is the right person for you, and will encourage you to step forward if appropriate.
A Matchmaker receives feedback after your first date with a Japanese woman
After your first date, your matchmaker will ask for your feedback. Your date also sends feedback to the matchmaker, so it will be clear to the matchmaker whether both of you share the same feelings. When you use online dating, it is hard to know what she really feels after your first date. If you understand her true feelings at the beginning, you can take appropriate action and save much time and heartache.
I just came back from NYC on Saturday night. I met some single men and Japanese women who want to find their true love through our matchmaking service. Most of them said that they do not want to waste their time with online dating. They understand the benefits of hiring a matchmaker. That is why they want to meet with me in person to talk about their dreams, and I am very delighted to support them.
I decided to visit NYC three years ago because there are so many single men and women who are searching for happy marriages. As long as they need a matchmaker's support, I will continue to visit NYC. I will keep visiting NYC in 2017 since it is part of my company's mission and my passion.
Naoko Matsumoto: CEO and Your Personal Matchmaker