Free Matchmaking Consultations in Los Angeles on Sep. 13th, 14th, and 15th!
Blog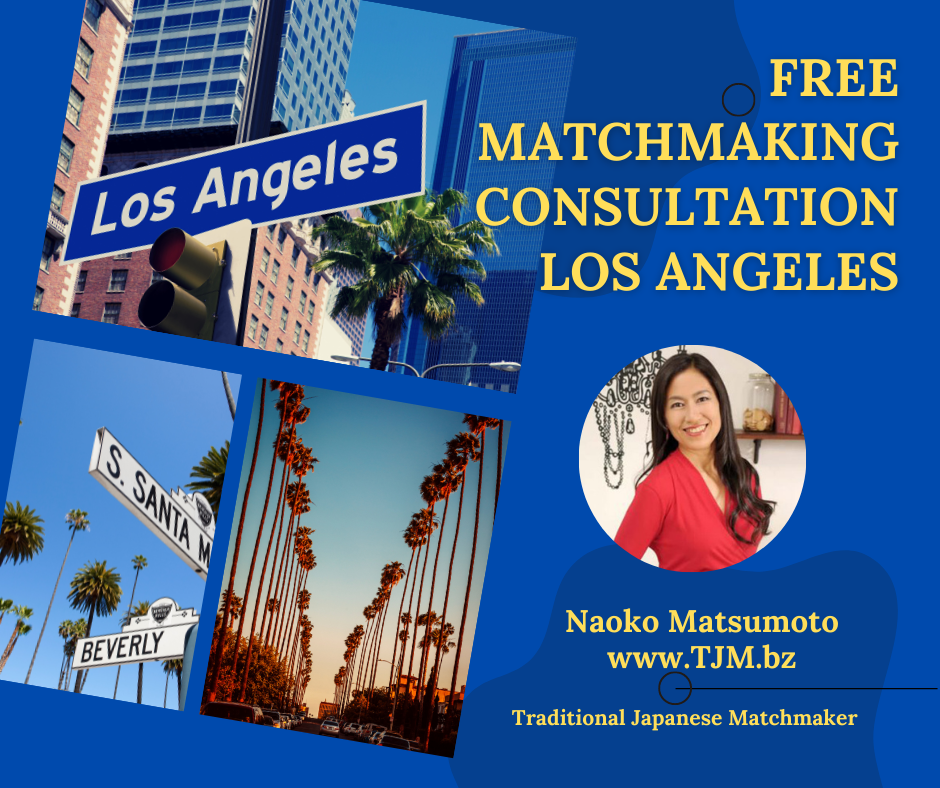 Free Matchmaking Consultations in Los Angeles on Sep. 13th, 14th, and 15th!
After completing TJM's Free Matchmaking Consultations in NY and NJ last week, I am traveling to Los Angeles this week in order to meet with prospective TJM male and female clients.
This is a great opportunity for you to personally meet matchmaker Naoko!
https://calendly.com/kaiwaplanet/free-consultation-in-nj-edgewater-clone?month=2022-09
We made the same announcement in our newsletter for our female members. On September 13th, 14th, or 15th, I anticipate that Japanese women in Los Angeles will apply for our free matchmaking consultations!
I am so excited to meet new people!
Los Angeles is one of the biggest cities in the US that has over 70,000 Japanese people. Many Japanese people came to Los Angeles as students or were posted abroad by their companies. They have a proper visa to stay there legally.
"The Benefits of Meeting Japanese Women Outside of Japan" are as follows:
・They can speak English fluently.
・They are used to different cultures and lifestyles.
・They are independent and confident enough to live outside of Japan.
Compared with Japanese women living in Japan, Japanese women who live outside of Japan are stronger because of their more varied life experiences. Living outside of Japan alone is more challenging for them, and they have many good and bad experiences. To cope with numerous new situations, they have learned a lot of survival skills.
Some gentlemen would like to meet Japanese women who have lived outside of Japan because of their strong communication skills.
On the other hand, some gentlemen would like to meet Japanese women living in Japan because they are not westernized.
We are happy to introduce both types of Japanese women: either Japanese women living outside of Japan or Japanese women living in Japan.
It is your choice!
We are currently searching for Japanese women who live in Los Angeles. Actually, we already have some current Japanese female members who live in California. If you are interested in meeting Japanese women in California, please let us know.
We would like to increase opportunities for gentlemen who would like to meet Japanese women outside of Japan.
For those of you who live in Europe, Australia, or other Asian countries, we are planning to increase matchmaking opportunities to cover many countries in the future!
Naoko Matsumoto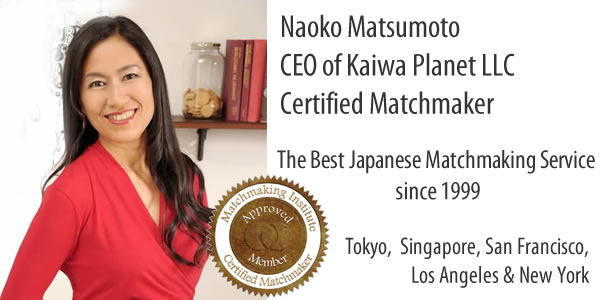 Traditional Japanese Matchmaker is the best dating and matchmaking service in Japan that is specialized for single professionals and Japanese women established in 1999. Please click the link below to sign up for TJM's Free Registration if you are truly interested. We look forward to assisting you in finding your Japanese wife.