To Japanese Women in NYC "Make Your Life Beautiful!"
Meet Japanese Women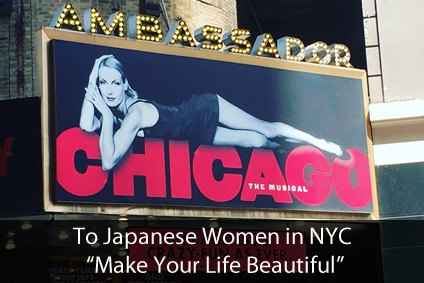 To Japanese Women in NYC "Make Your Life Beautiful!"
Last weekend, I went to NYC for Free Consultations and to meet some men and Japanese women who live in NYC. I enjoy talking with new people, finding out what they need, and helping to solve their problems. The Next Free Consultation in NYC is on Nov 18th and 19th 2017
A single Japanese woman I met there told me that she is not able to meet a gentleman even though she has lived in NYC for a couple of years. She said that she is too busy to enjoy life in New York City. She works for a Japanese company in NYC and she often does volunteer overtime work, which means working with no pay. Volunteer overtime work is common in Japan and she is living like a Japanese woman in Japan even though she lives in America. She said that she is supposed to obey her company since her company supports her visa.
Likewise, I have met many Japanese women in NYC who don't care about themselves, and live their lives without going after their dreams.
As a matchmaker I give them advice of what they need to change in their daily routines and tell them that they need to take some time to prioritize getting married. I encourage them to shift their lives from fine to fabulous. After talking with them for 45 minutes at a café in NYC, it is wonderful to see their faces smile when they realize that they can change their lives for the better.
Before the end of her consultation, she made a commitment to find someone within a year to start her new happy life with.
I received a message from her on the way home from NYC. She wrote that she appreciated the opportunity to meet me and she was thankful that I helped her realize that she can be happily married when she follows my advice.
I believe that women in NYC who meet with me have already decided to change their lives. I am sure that the woman I met yesterday will be able to change her life to fabulous. I am concerned that many Japanese women are working too hard and are not able to create happily married lives for themselves. That is why I encourage them to take certain action steps.
We have many Japanese female members who are marriage minded and excited to discover something new with their husbands to be. And, we look forward to introducing them to you!
PS
After my NYC consultations, I had an OMIAI meeting in NYC. We had setup a meeting for a single man and Japanese woman who both live in NYC. Also, during the same weekend, we setup two meetings in Japan: A man from Singapore and a man from Germany met some of our Japanese female members in Japan. We support our members worldwide.