Meet a Beautiful Japanese Woman in Osaka Japan F11122
Meet Japanese Women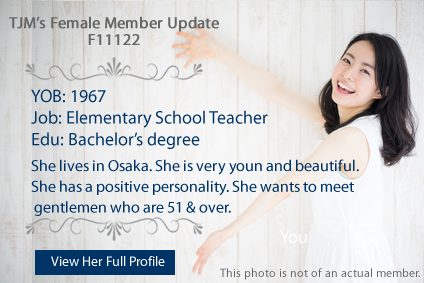 Meet a Beautiful Japanese Woman in Osaka Japan F11122
She lives in Osaka works as a elementary school teacher. She is very young and beautiful. She has a positive personality. She wants to meet  gentlemen who are 51 & over.
If you are TJM's Member, please click here to login our member page.
You can browse her profile.
You can make a contact request from our member page.
We are happy to arrange the Skype Meeting with her if both you and her preferences meet.
If you are not TJM's Member, please click here to get started with the following steps.
Step1: Please create your own profile.
Step2: Please make an appointment with one of TJM's matchmakers.
Step3: Submit your documents.