Haneda Airport is the Most Convenient Airport to Tokyo
Blog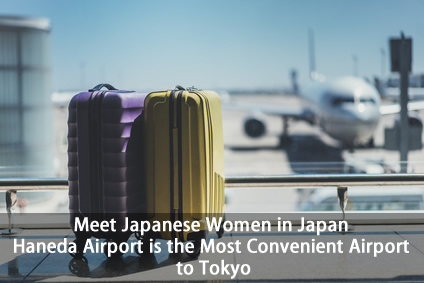 Haneda Airport is the Most Convenient Airport to Tokyo
During October, November, December, and New Year's 2018, many of our male clients visit Japan to meet Japanese women since it is the holiday season and it is easier for them to take days off. Many of our male clients visit Japan several times a year. We appreciate that our male clients are always sincerely taking action to make their dreams come true.
When traveling to Japan, have you tried the airlines that are flying to Haneda Airport? Haneda Airport is not as well known as Narita Airport, but Haneda Airport is the closest Airport to central Tokyo. Narita Airport is located in Chiba prefecture although it is called Narita Tokyo International Airport. If you have an opportunity to use the airlines that fly to Haneda, please consider using Haneda instead of Narita Airport and compare which one is better for you.
I recommend Haneda Airport for these reasons:
Save Time:
It takes only 30 minutes from Haneda Airport to central Tokyo by bus, train, or taxi. It is very convenient because there are many choices of transportation to your hotel. Traveling from Narita Airport to central Tokyo takes 90 minutes or more by bus or train, which is much longer. Of course times may vary and will depend on how much traffic there is.
Save Money:
Since Haneda Airport is closer to central Tokyo, it costs less for transportation.
Here is some information about Haneda Airport.
The List of Airlines that fly to Haneda Airport:
http://www.haneda-airport.jp/inter/en/flight/company_list.html
Transportation from Haneda Airport to the cities:
https://www.tokyo-airport-bldg.co.jp/en/access/
If you need a nap after arriving at the Haneda Airport:
There is the First Cabin service at Terminal One in Haneda Airport
https://first-cabin.jp/en/
If you arrive at the airport early in the morning or late at night, you can take a nap there, take a shower, watch TV, and more. There are many useful facilities such as Free WIFI, toothbrush, slippers, a gown, and more. The price is reasonable and is charged by the hour. They are open 24 hours a day and 7 days a week.
Gift for Her:
There are many cute and delicious sweets that are sold only at Haneda Airport. As you may know, giving a small gift or sweet is a typical Japanese custom when visiting someone. The gift doesn't have to be an expensive thing. She feels that you care about her when you give her small sweets. The most popular sweets only cost about $10. You can show her your appreciation by giving her a small gift. It's a $10 investment to marry a Japanese woman!
https://icotto.jp/presses/1187 (The website is in Japanese, but you can see the photos of sweets.)
This information will help you plan your visit to Japan. When you decide to travel to Japan, we are happy to setup your meetings with our female members. Your decision to visit Japan will change your life!
Naoko Matsumoto
Founder & CEO of Traditional Japanese Matchmaker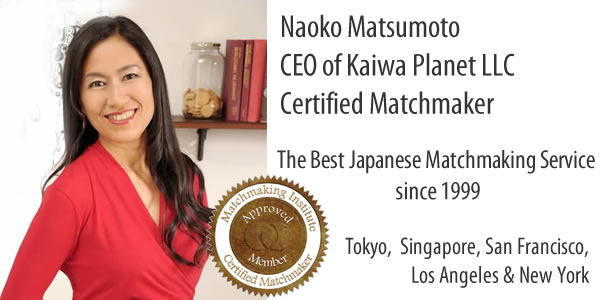 Traditional Japanese Matchmaker is the best dating and matchmaking service in Japan that is specialized for single professionals and Japanese women established in 1999. Please click the link below to sign up for TJM's Free Registration if you are truly interested. We look forward to assisting you in finding your Japanese wife.
Naoko Matsumoto
CEO and Your Personal Matchmaker
Traditional Japanese Matchmaker