Are You Interested in Japanese Women in High Level Careers?
Meet Japanese Women
Are You Interested in Japanese Women in High Level Careers?
Recently, some new female clients who are in top level careers, such as, doctors, nurses, pharmacists, cabin attendants, and others joined as members. They are working in some of the top professions and some of them earn more than 100,000 USD annually. Their dreams of having professional careers have come true, but they don't feel like they have accomplished all of their goals in life. They also want to have happy marriages.
The problem is that not many Japanese men are interested in high earning career women. They don't want their wives to earn more than them. Japanese men want to meet housewives type women and they want their wives to be at home to take care of their family.
Because of this prejudice, top level career women in Japan want to meet non-Japanese men who live outside of Japan. High level career women usually have a lot of curiosity, and want to challenge themselves to reach their full potential in the new world.
Since our matchmaking service has many clients who are single professional men and Japanese women, we have many high level career women. They want to meet gentlemen who understand the needs of career oriented Japanese women.
If you are not interested in having a housewife type Japanese woman, we can introduce single career oriented Japanese women to you.
One of our female members is visiting San Francisco this week. She is a doctor in her early 30's. If you are interested in her, please view her profile at F17000. After you have created your profile, you can browse our female members' profiles.
Speed Dating Event in Japan on July 7th 2018
If you haven't planned to visit Japan, we recommend to plan on July 7th 2018. We will host a speed dating event in Tokyo, so you can meet manybeautiful Japanese women in Tokyo in one day. Also we can arrange individual meetings for you. I am sure this is a great opportunity for you if you really want to marry a Japanese woman within a year!
Speed Dating Preregistration: Register now, and you will receive the info early.
https://meetjapanlady.com/event.html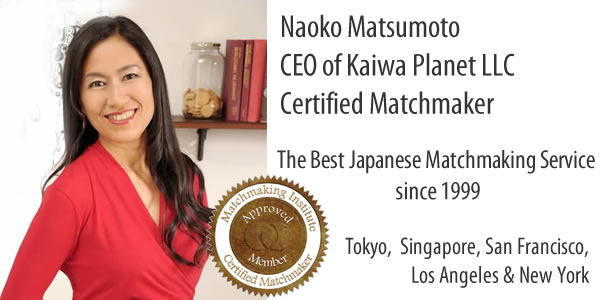 Dating and Matchmaking Service for Single Professionals and Japanese Women Established in 1999
We have been working as professional Japanese matchmakers for 18 years. We look forward to assisting you in finding your Japanese wife. Please click below to make an appointment for a Free Skype consultation if you are truly interested. We are happy to make an appointment with you after you have created your own profile. https://meetjapanlady.com/company.html

Naoko Matsumoto
CEO and Your Personal Matchmaker
Traditional Japanese Matchmaker