Meet & Greet with Japanese Woman Before Winter Holiday 2023
Blog
Meet & Greet with Japanese Woman Before Winter Holiday 2023
We are excited to invite you to TJM's final Zoom Meeting of 2023, exclusively for our members!
This session offers a unique opportunity to connect with Japanese women and could be the first step towards beginning a meaningful correspondence.
Don't miss out on the chance to potentially find a lifelong partner and pave the way for a joyous marriage in 2024!
Meet & Greet with Japanese Woman 2023
Date and Time:
Dec. 2nd at 8 pm (New York Time)
Dec. 2nd at 7 pm (Chicago Time)
Dec. 2nd at 5 pm (Sun Fransisco Time)
Dec. 3rd at 10 am (Japan Time)
Ages:
Men 28 to 42
Women 25 to 35
Join us and end the year on a note of possibility and romance!
Who Can Join TJM's Singles Event?
✅ TJM's Full Members only
What Are the Benefits to Joining TJM's Single Events?
You can meet and talk with single Japanese women individually on Zoom.
Meeting more than one woman at one time will be fun and meaningful since our members are all marriage minded.
Contact us via contact form
For those who wish to participate in the event, please click on this link to inquire. Be aware that participation is exclusive to TJM members. Thank you for your understanding.

After the Zoom Meeting, you will select your top choice. If she selects you, you will be able to start corresponding with her and get to know each other more.
Many of TJM's successful couples met through a past Zoom event, and it could be you who is the next to get married.
If you're looking to prepare now for a marriage in 2024, don't miss out on this chance to set the stage for your future happiness.
For those wishing to participate in the event, please follow this link to inquire and register. Note that attendance is exclusive to TJM members. We appreciate your understanding.
Naoko Matsumoto
Founder & CEO
Traditional Japanese Matchmaker (TJM)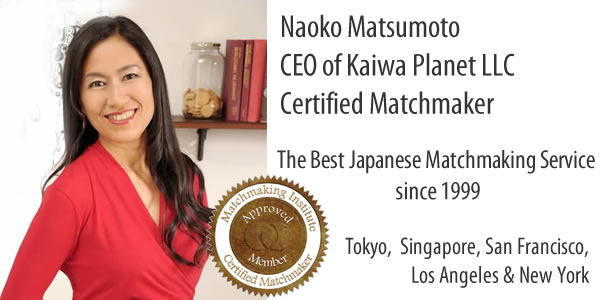 Traditional Japanese Matchmaker is the best dating and matchmaking service in Japan that is specialized for single professionals and Japanese women established in 1999. Please click the link below to sign up for TJM's Free Registration if you are truly interested. We look forward to assisting you in finding your Japanese wife.