The Procedure of TJM's Omiai Meeting: Visiting Japan to Meet with Japanese Women
Blog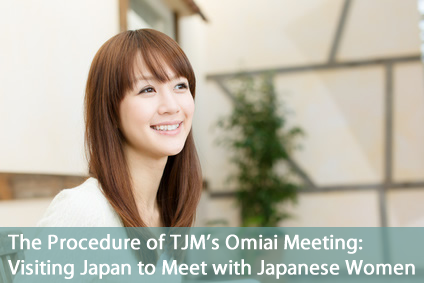 The Procedure of TJM's Omiai Meeting: Visiting Japan to Meet with Japanese Women
Here is Traditional Japanese Matchmaker's Omiai Meeting procedure when you visit Japan to meet with our female members.

Traditional Japanese Matchmaker's Omiai Meeting procedure
Step 1
Discuss your best matches with our matchmaker.
Step 2
Start corresponding with 1-3 Japanese women.
Step 3
Plan to visit Japan, and let your matchmaker know your travel itinerary.
Step 4
Your matchmaker will arrange the meetings, and give you the details of the meetings.
Usually we arrange for meetings to take place at the lobbies of major hotels or we reserve a table at a café or restaurant.
Step 5
You show up on time at the prearranged meeting place.
Step 6
You meet with your date there.
Step 7
Write feedback about the meeting you had, and you will receive the meeting feedback from your date.
Step 8
After you have completed all of your meetings and returned home, make an appointment with your matchmaker to discuss your next steps.
Continue or decline the women you met in Japan. If needed, you will get introduced to new Japanese women.
In October, November, December, and January, so many gentlemen visit Japan in order to meet our female members. During the holiday season people can take days off easier than usual, and we appreciate that our male members make time to meet with our beautiful Japanese women!
We usually arrange three meetings for one trip. Three meetings are included our full membership service. If you want to have more than three meetings we are happy to arrange them for you for additional fees.
For the men who request additional meetings, on average they request a total of 5-6 meetings with our female members. Do you think this is too many or too few? At the beginning of the journey in finding a beautiful Japanese wife, meeting as many women may work. But if you have already met many Japanese women before, now is the time to narrow your search and think about who is your only one. If you keep meeting more and more Japanese women, you will be confused, and you will not be able to decide on one. This Ted Talk video will help you to understand the science of choosing. https://www.ted.com/talks/sheena_iyengar_choosing_what_to_choose
The benefits of hiring a matchmaker are much different from using an online dating site. Trying to find a wife with online dating sites is an everlasting lonesome journey that leads you to unknown places with no achievement. The wiser choice to make if you are a busy businessman is to hire a matchmaker since they will do most of the work for you. For instance, matchmakers search for your ideal women, screen women, arrange your meetings, and perform meetings follow-ups to confirm what the women you met thought about you. A matchmaker is always ready to assist you in finding your best partner. An additional benefit of hiring a matchmaker is that you give and receive feedback which helps you understand whether you are making progress with your relationships and whether you are going in the right direction.
During this holiday season, we arrange many meetings and their follow-ups for single professionals and Japanese women. For the second step, some of our female members are planning to visit him at the place he lives. That sounds great! We look forward to hearing good news from them very soon!
Visiting Japan may be a big decision for some men. If you really want to marry a Japanese woman, making the decision to visit Japan will make the difference between whether you succeed or not. Visiting Japan will change your life for the better!.
Naoko Matsumoto
Founder & CEO of Traditional Japanese Matchmaker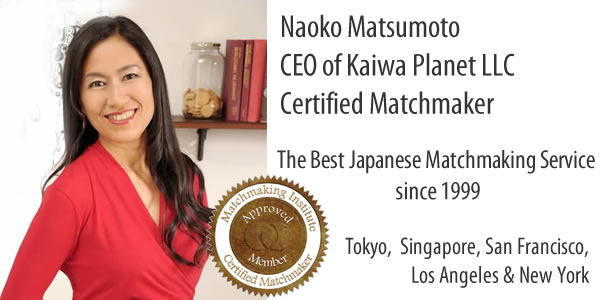 Traditional Japanese Matchmaker is the best dating and matchmaking service in Japan that is specialized for single professionals and Japanese women established in 1999. Please click the link below to sign up for TJM's Free Registration if you are truly interested. We look forward to assisting you in finding your Japanese wife.
Naoko Matsumoto
CEO and Your Personal Matchmaker
Traditional Japanese Matchmaker