Enjoy Staying in Japan with Your Japanese Woman!
Japan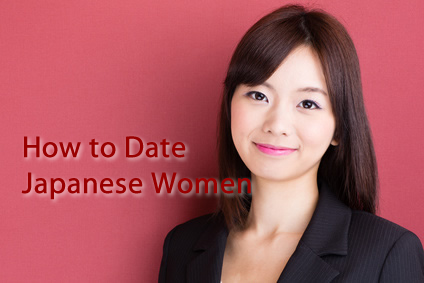 Enjoy Staying in Japan with Your Japanese Woman!
Our Singles Party Event will be held in a week and some of our male members who will join our event are arriving in Japan this week.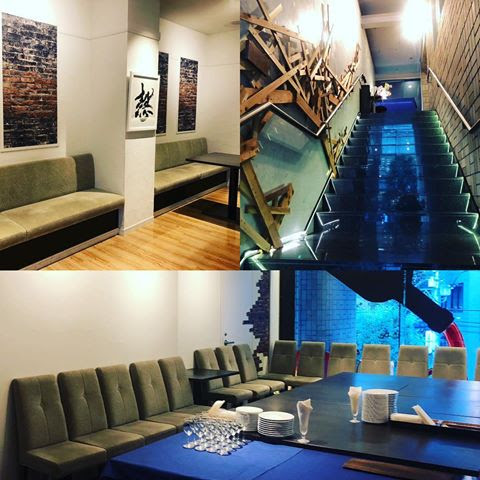 Some people may still have fears and feel stressed about visiting Japan because of language and cultural differences. They may believe that Japanese people do not speak English at all. However, let me allay any fears. Japan is very welcoming to visitors and English is widely spoken, especially at tourist facilities.
In order to help you enjoy your stay in TOKYO, I would like to give you some tips. We hope they will help to reduce your stress and fears. 
EASY TRANSFER in TOKYO
NO UBER but JAPAN TAXI
FREE WIFI
NO TIP CUSTOM in Japan
INFORMATION CENTER
EASY TRANSFER in TOKYO
Japan Rail Pass:
https://www.jreast.co.jp/e/pass/
If you stay in Japan for more than 7 days, I recommend that you purchase a Japan Rail Pass. You will need to purchase a Japan Rail Pass before traveling to Japan.
Suica / PASMO:
There are two main IC cards for transportation that are called Suica & PASMO in TOKYO. You can get on trains, subway lines, and even buses easily if you have this card. It is a prepaid card and you can purchase and add funds at any station. Suica is issued by JR and PASMO is by Tokyo Metro. Both cards are for the same use, so you do not purchase both.  If you have one card, you can use all transportation in TOKYO.
Suica
https://www.jreast.co.jp/e/pass/suica.html
PASMO
https://www.pasmo.co.jp/en/

You can also use this Suica / PASMO at some stores, restaurants, vending machines, KIOSKS, and even taxis to make payments.
If you  travel to Kansai (other cities like Kyoto, Osaka, Kobe, Hiroshima….) There are different kinds of prepaid cards. For example ICOCCA in Osaka. You can use ICOCCA card in TOKYO, and you can also use Suica and PASMO in OSAKA.
NO UBER but JAPAN TAXI


https://japantaxi.jp/
It may be hard to believe, but there is no UBER in Japan.
I apologize for announcing that Uber does not exist in Japan. This was incorrect.
https://meetjapanlady.com/lessons/japan-travel-guide-uber-exists-in-japan
There is an APP that is named Japan Taxi. Japan Taxi is the almost same as UBER. So you can easily hail taxis in Japan with no stress. (We have UBER EATS in JAPAN!)
FREE WIFI


https://www.wifi-tokyo.jp/mail.html




In many places in TOKYO, you can find FREE WIFI for foreign travelers. If you are an American, and you use SPRINT as your mobile phone, they have reasonable packages.





Sprint's Global Roaming Plan

https://trulytokyo.com/international-roaming-rates-for-japan/
NO TIP CUSTOM in Japan
This may be GOOD NEWS for you! There is a no TIP CUSTOM in Japan. At all hotels, restaurants, taxis, etc. you do not need to pay tips. However, you are welcome to pay a tip, but almost all Japanese people will hesitate to receive it. They are well trained, and the quality of their services is excellent without tips. 
INFORMATION CENTER: https://tokyotouristinfo.com/en/
There are information centers in TOKYO. Visit there and you can ask anything you want to know about TOKYO.
By the way, one of my friends said, "DAIKOKUYA has the best money exchange rate in TOKYO. There are many branches of DAIKOKUYA in TOKYO, so I recommend them.

Before the 2020 TOKYO Olympics, the city of TOKYO is working hard to be more welcoming for foreign tourists. You will see many new English signs on the streets in TOKYO. And, the Japanese people are learning English in order to get ready to welcome visitors to Japan.
Let us help you find your Japanese woman first, and your stay in TOKYO will be joyful and more FUN!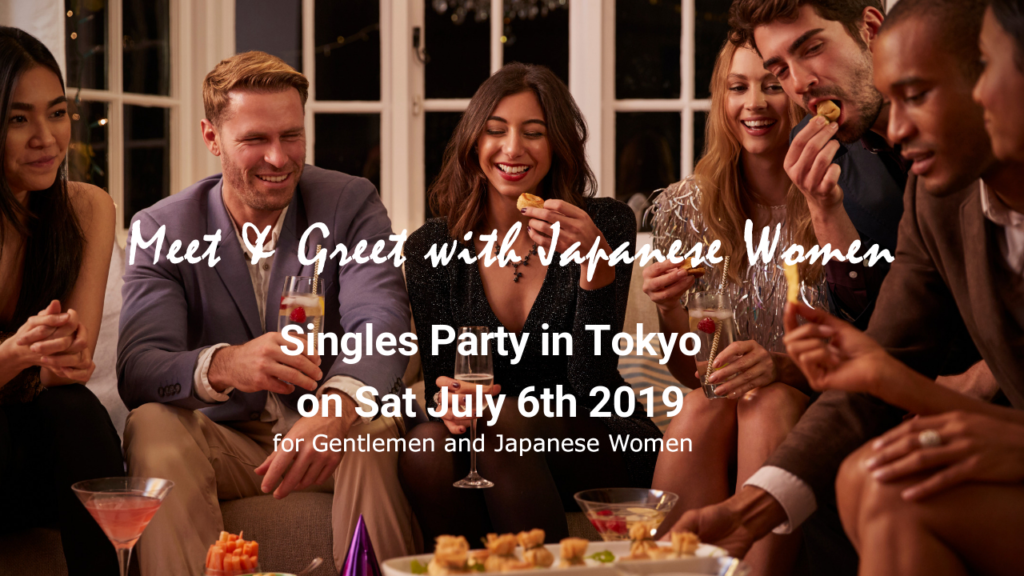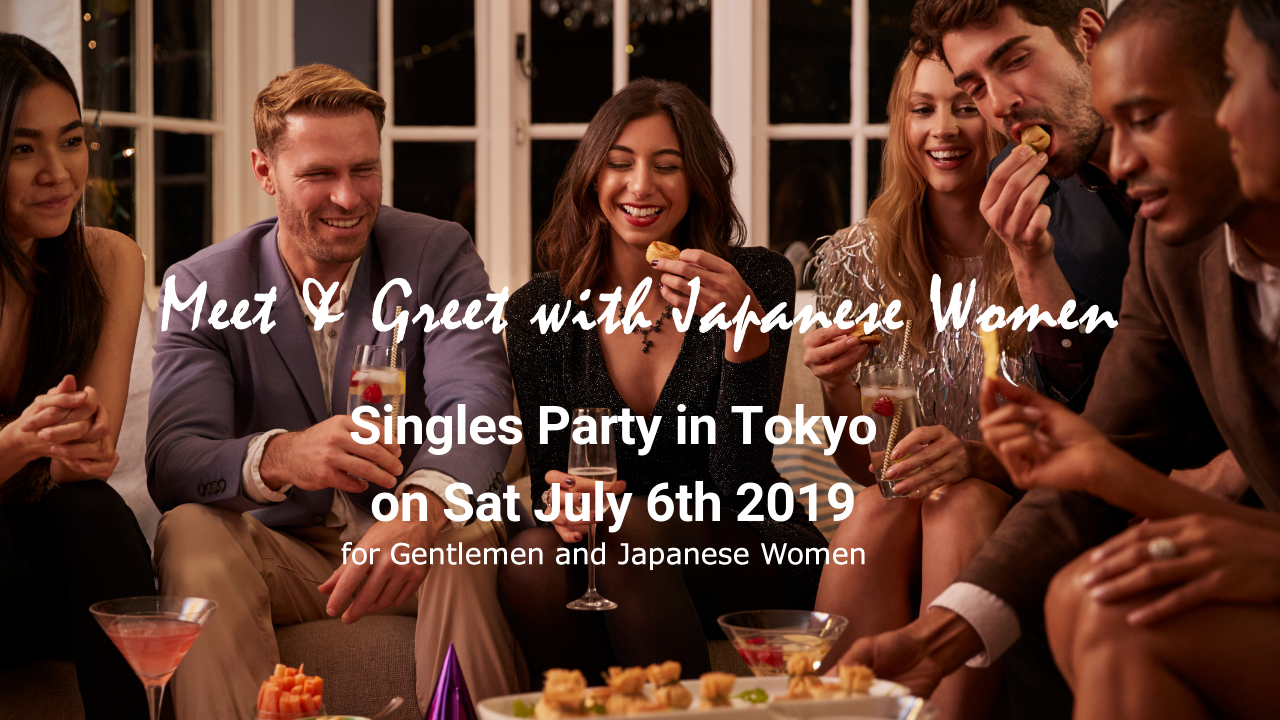 Singles Party in Tokyo on July 6th, 2019
If you haven't planned to visit Japan, we recommend planning on July 6th, 2019. We will host a singles Party in Tokyo, so you can meet many beautiful Japanese women in Tokyo in one day. Also, we can arrange individual meetings for you. I am sure this is a great opportunity for you if you really want to marry a Japanese woman within a year!
Plese click to signup for TJM's Singles Party in TOKYO 2019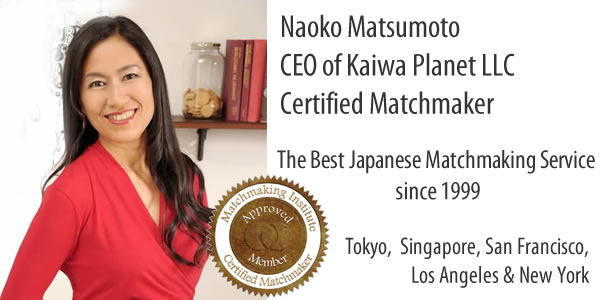 Dating and Matchmaking Service for Single Professionals and Japanese Women Established in 1999
We have been working as professional Japanese matchmakers for 20 years. We look forward to assisting you in finding your Japanese wife. Please click below to make an appointment for a Free Skype consultation if you are truly interested. We are happy to make an appointment with you after you have created your own profile. https://meetjapanlady.com/company.html

Naoko Matsumoto
CEO and Your Personal Matchmaker
Traditional Japanese Matchmaker