How to Get Married to a Japanese Woman: Fiance Visa
Laws
How to Get Married to a Japanese Woman: Fiance Visa
We host an online seminar for our Japanese women by using ZOOM, a video conferencing service (https://zoom.us ).
Our online seminar is helpful for Japanese women who are looking for a lifelong partner internationally. They realize that there are many things that Japanese women need to learn and prepare for.
For example, at our last online seminar for Japanese women, we invited a matchmaker who lives and works in Australia to discuss about the matchmaking possibilities for Japanese women and  Australian men. Japanese women are required by the Australian government to get a fiance or spouse visa in order to stay in Australia. This requirement creates difficulties as you will read about below.
We discussed the following topics at the Online Seminar last time.
・de facto marriage (common law marriage)
・expensive fiance visa in Australia
De facto marriage (common law marriage):
De facto marriage is not an option for Japanese women since they are required to have a visa as mentioned above. In Australia, de facto marriage is popular with native Australians. It is otherwise known as common law marriage and it means two people who live together like a married couple do but they do not get married. They do not need to get married if there are not any benefits. There are no tax benefits whether married or not in Australia. Catholic couples are not allowed to get divorced easily. That is a major reason that people choose de facto marriage. However, Japanese women cannot get married without an immigration visa. That is a major issue.
Expensive fiance visa in Australia:
The Australian government requires a large amount of money for immigrants to obtain fiance visa. It is about $7000 (USD) and it is a lot more expensive than the US immigration visa. Who is going to pay for it, a husband to be or a wife to be? If either the man or woman is able and willing to pay for it, the fiance visa is certainly an option.
A matchmaker in Australia told us that many Australian men gave up on meeting Asian women because the Australian government's immigration law was changed with this more expensive requirement being added a few years ago, most likely in order to keep immigrants out. We understand that many people do not want to pay for it! This is the Australian Government's official website that tells about the fiance visa. Please read it carefully if you are an Australian. https://immi.homeaffairs.gov.au/visas/getting-a-visa/visa-listing/prospective-marriage-300
USA: How to Obtain Fiance Visa
https://www.uscisguide.com/visa/k-1-fiance-visa/
Visa Journey:This is VERY helpful website to learn about immigration visa.
https://www.visajourney.com/
In the US, the fee for a fiance visa is not that expensive now as of Jan. 2019. It is affordable. However, in the future, the government may change their immigration law, so please keep your eye on it. Here is the US government's official website for immigration visa.
Please find out information about the fiance visa in your own country if you want to marry a Japanese woman. Feel free to contact us if you are interested in marrying a Japanese woman.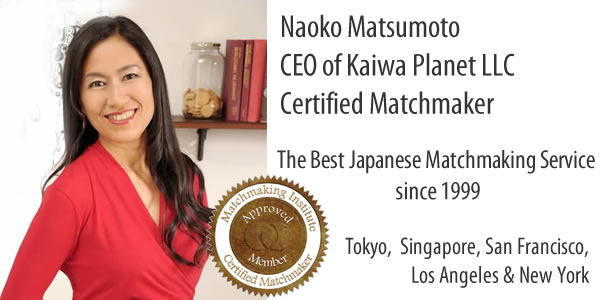 Dating and Matchmaking Service for Single Professionals and Japanese Women Established in 1999
We have been working as professional Japanese matchmakers for 18 years. We look forward to assisting you in finding your Japanese wife. Please click below to make an appointment for a Free Skype consultation if you are truly interested. We are happy to make an appointment with you after you have created your own profile. https://meetjapanlady.com/company.html

Naoko Matsumoto
CEO and Your Personal Matchmaker
Traditional Japanese Matchmaker
Singles Party in Tokyo on July 6th 2019
If you haven't planned to visit Japan, we recommend to plan on July 6th 2019. We will host a singles Party in Tokyo, so you can meet many beautiful Japanese women in Tokyo in one day. Also we can arrange individual meetings for you. I am sure this is a great opportunity for you if you really want to marry a Japanese woman within a year!
Here is the link for the Pre-reservation:
https://canyon-ex.jp/fx2048/event