TJM's Annual Meet & Greet with Japanese Women Event in 2023
In the summer of 2023, TJM's annual 'Meet & Greet with Japanese Women in Tokyo' event was a big success!
Gentlemen and Japanese women from the US, Japan (spanning from Tohoku to Kyushu), and Australia attended the event.
I'd like to extend my heartfelt thanks to everyone who participated.
"For our clients who couldn't attend this particular event, I'd like to offer some key insights to encourage them to consider our future events in Japan."
1. The number of female participants exceeds that of male participants.
2. Female participants were carefully selected by our Matchmakers
3. Purpose of our events is "Marriage"
1. The number of female participants exceeds that of male participants.
Naturally, when hosting an event in Japan, the number of Japanese female participants will exceed the number of men coming from abroad. For these men, participating in an event in Japan requires a significant investment of time and money. However, the opportunity to meet many Japanese women in a single day is invaluable. Attending such an event not only provides a unique experience but also plays a crucial role as an investment, expanding the possibility of meeting a future partner.
2. Female participants were carefully selected by our Matchmakers
Before the event, when we called for female participants, we received a tremendous number of applications. Notably, we had many applications from single mothers. However, considering the conditions and preferences of the male participants, there were no men planning to attend who were interested in serious relationships or marriage with single mothers. Regrettably, we had to decline many of the applications from these single mothers.
Based on the criteria of the male participants for this event, we meticulously selected women who would be a good match and focused our efforts on inviting them to the event. This is because we are aware that both male and female members of TJM are genuinely searching for their future partners.
If there are men who are open-minded and considering marriage with single Japanese mothers, we will be holding a special event for single mothers next time. Please reach out to our matchmakers if you are interested.
3. Purpose of our events is "Marriage"
In typical dating events, organizers focus on ensuring participants have a fun day through socializing with drinks. Therefore, the criteria and preferences of participants are often not given much importance.
Below is feedback from a single woman who attended our event:
This woman had previously attended a typical dating event organized by another company. She expressed her disappointment, noting that the organizers of that event did not even take into consideration the ages of the male and female participants, and seemed to be just trying to gather as many participants as possible to meet a quota.
Here are her comments:
●
"What I realized this time is, just as Ms. Matsumoto mentioned, events that haven't been pre-sorted based on certain criteria don't result in matches and seem pointless to attend.
I felt that events like TJM's, which gather only potential candidates in advance, are the most efficient and promising, truly serving the participants' interests."
●
Indeed, for matchmaking events, the organizer's [attitude] and participants' [objective] are crucial.
TJM's matchmaking event is intended for those genuinely looking for a future partner.
Therefore, we'll match based on age and other criteria, and matchmakers will reach out individually.
While large, lively events are fun, it's important to ask if the objective is truly about finding a match.
Events without age-based sorting or where you can't confirm in advance who's attending present challenges. You don't know if you fit the other person's desires, or if they fit yours.
For this TJM event, the morning session targeted men in their 30s. The afternoon session was for slightly older gentlemen.
TJM's Summer Event Results:
At this matchmaking event, 2 couples matched in the morning and 4 in the afternoon.
I informed both the male and female participants that this is not the end result but just the beginning. Whether they found a match or not, the matchmakers will follow up and, if necessary, provide additional introductions.
As an example, one of our female members who participated in the event did not find a match. After our event, we matched and subsequently introduced her to a man who did not attend our event this time, and we have already arranged an individual meeting between them via Zoom in July.
The ability to spark many wonderful connections through post-event follow-ups is one of the unique charms of TJM's events.
Furthermore, since we have met all the participants in person at the event, the matchmakers can understand their personalities as well as their preferences and conditions. This makes follow-up introductions much easier.
The 2023 event welcomed purpose-driven men and women and produced positive results. We are planning to hold another event in the summer of 2024. For those seriously considering marriage, we encourage you to plan your visit to Japan to coincide with TJM's event. Of course, if you can visit Japan before next summer, you will likely find your happy marriage even sooner.
We hope to assist all single professionals in taking the first step towards a happy marriage as they participate in TJM's matchmaking events or services.
Naoko Matsumoto
Founder & CEO
Traditional Japanese Matchmaker (TJM)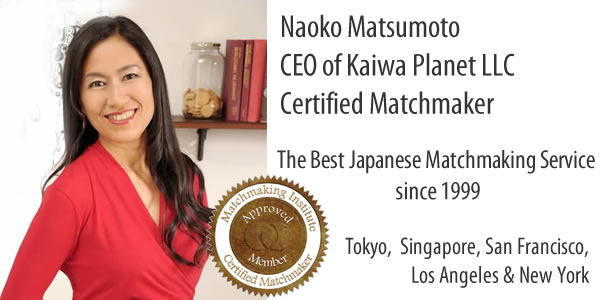 Traditional Japanese Matchmaker is the best dating and matchmaking service in Japan that is specialized for single professionals and Japanese women established in 1999. Please click the link below to sign up for TJM's Free Registration if you are truly interested. We look forward to assisting you in finding your Japanese wife.