Are You Ready to Meet Japanese Women in Japan in 2021?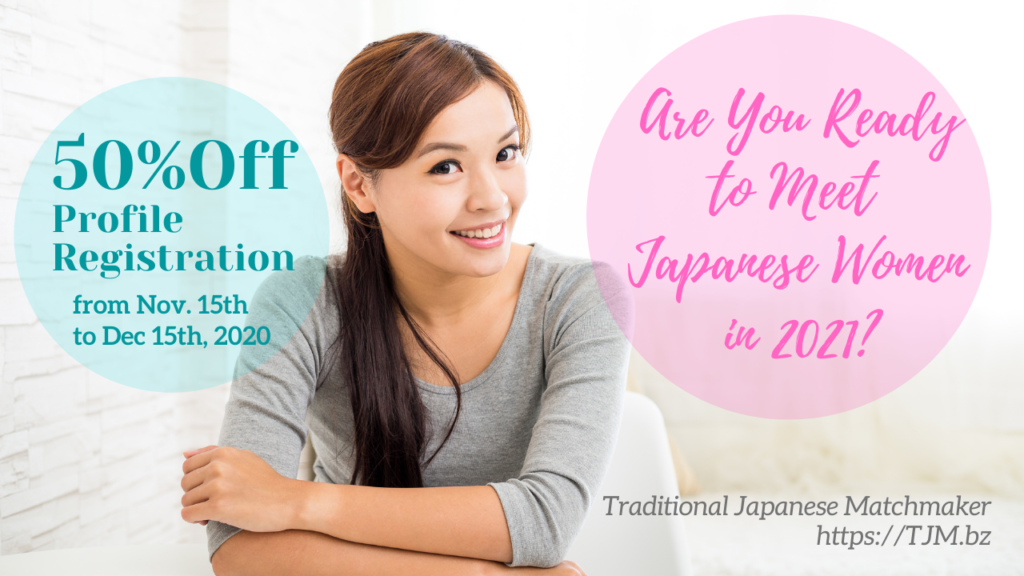 Are You Ready to Meet Japanese Women in Japan in 2021?
More than 90% of our male members are thinking about coming to Japan after the pandemic ends.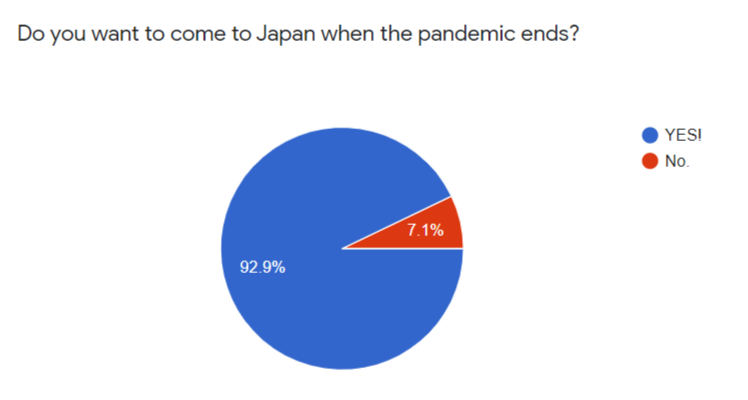 We really appreciate that many single professionals are interested in getting married to Japanese women, and they are looking forward to visiting Japan to meet Japanese women! 
We would like to take care of them as much as possible and we decided to offer 50% Off of our Profile Registration Campaign.
Holiday Campaign 2020
50% Off of Profile Registration
for Gentlemen who Signup from Nov. 15 to Dec 15th, 2020
Please click the link below.
https://traditionaljapanesematchmaker.us/profile-registration/
It's time to take action now!
The 50% Off of TJM's Profile Registration Campaign 2020 is a great opportunity for you if you have been looking for a serious relationship with a Japanese woman and would like to make your dream come true in 2021!!
Here are the details of our Profile Registration: 
The benefit of TJM's Profile Registration
You can schedule a consultation with one of our matchmakers who will discuss the details of your ideal Japanese woman. 
You will receive our female members' profiles selected by our experienced matchmakers. Our matchmakers will select your Best Matches after your profile is created.
Who Can Register for TJM's Profile Registration:
Gentlemen all over the world who meet our Membership Qualifications are welcome to register with us. They must be serious about marriage and ready to get married.
Process of TJM's Profile Registration:
Sign up, send us three photos for your profile, and some Required Documents. Then, we will send you a link to create your own profile. After you have completed your own profile, one of our experienced matchmakers will schedule a matchmaking consultation to discuss your best matches.
Eligibility for Full Membership:
Only those who have completed their Profile Registration can become our Full Member. After you have received profiles of your ideal candidates, you have the option of upgrading to a Full Membership where our matchmakers will arrange meetings for you with your candidates. 
The Price of Profile Registration:
The original price of TJM's Profile Registration is US $300 for 12 months. From Nov. 15th to Dec 15th, 2020, we are offering a 50% off campaign, where the price is only US $150 for 12 months. Sign up before this campaign ends on Dec 15th, 2020, and we will schedule your consultation in November or December 2020.

TJM's Profile Registration is simple and easy! Take advantage of this opportunity to create your profile at a reduced rate. It is the first step on your journey to finding your beautiful Japanese wife! Take action in 2020 and you will be able to make your dream come true in 2021 !